Spring has sprung and the flowers are blooming! Why not brighten up your home decor with some free spring printables?
Spring is desperately trying to get here to Vermont…if only the constant mid-Atlantic snow would let the warm weather get up the coast, it would come…I know it would!
After a freakish cold snap last week, the temperatures have been slowly getting up into the 30s and low 40s. I know that sounds cold to some of you, but, after temperatures below zero for days on end, 35 degrees seems like a heat wave to us right now.
Believe it or not, I actually have some flowers attempting to bloom. I'm pretty sure they're Iris, but since they were here when we bought the house, I'm not entirely sure. They didn't bloom last year, but we did some maintenance in the area where they are, so I'm guessing we turned them around some.
Anyway…
Since some (most) of you are lucky enough to truly have flowers in bloom and warm weather, I thought it was time to do a little round-up of beautiful free spring printables that you can use to brighten up your home and get rid of the winter cloud.
Just go ahead and click the images to learn more about each one…
10 Free Spring Printables to Brighten Up Your Home
The Earth Laughs In Flowers from Yellow Bliss Road
Oh, yes it does…and it's laughing at us fools who choose to live in the northern hemisphere!
Bloom Where You're Planted from The 36th Avenue
As I age and my children grow up, I wonder if this statement isn't true after all…maybe we are like flowers, meant to "grow" where we've already grown.
Hello Beautiful Spring from Blooming Homestead
Oh, Hello Beautiful Spring…how I've missed you! Please come back soon!
Hello, Spring from Happiness is Homemade
I mean really…you've been gone long enough! Winter's had her turn…now it's time for Spring to shine!
No Matter How Long The Winter, Spring Is Sure To Follow from The DIY Mommy
As if we ever questioned it in the first place. Spring will appear again…it always does.
Happy Spring From I Should Be Mopping The Floor
How fun would it be to ride around on this little Vespa, flower basket and all, on a warm spring day?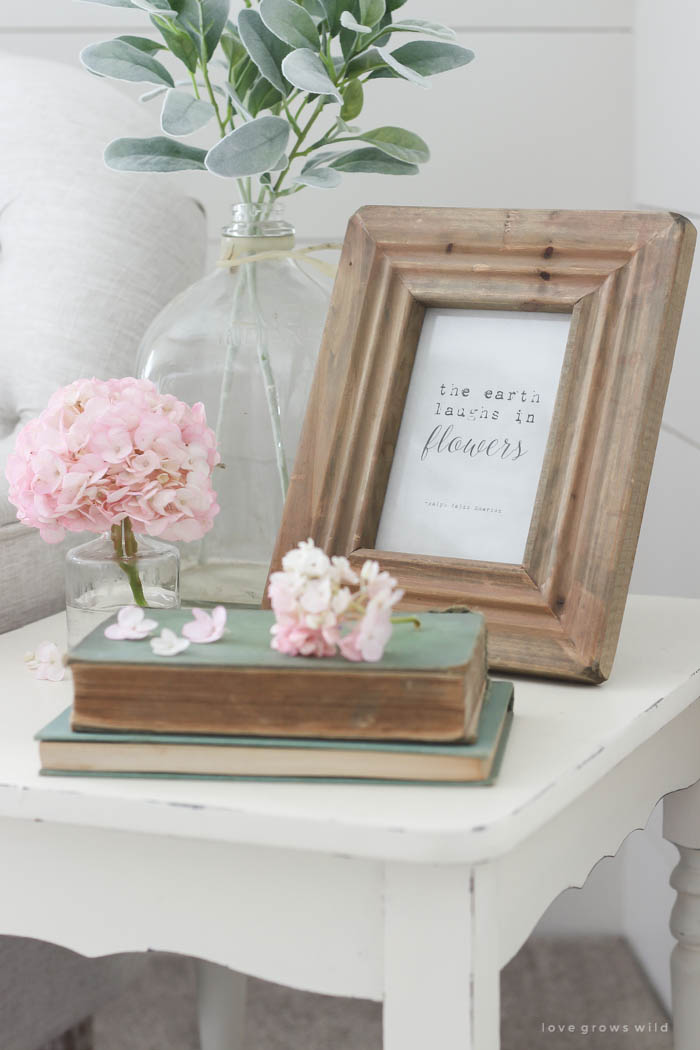 The Earth Laughs In Flowers from Love Grows Wild
Again, she's laughing at me…begging for Spring!
Happy Spring Printable Tags from I Heart Naptime
And for those of you feeling a bit creative this spring, above are some beautiful printable tags that you can use to decorate Easter gifts, spring flower bouquets or even sweet treats.
Happy Spring Bunting from Today's Creative Life
Or use this gorgeous "Happy Spring" bunting to decorate a whole wall in your home…or maybe even over the fireplace mantle.
And a little less fun, but necessary nonetheless!
Free Spring Cleaning Checklist
It's a dirty job, but somebody's gotta do it, right? Use this pretty pastel spring cleaning checklist to keep track of what you've done and what still needs to be done.
Then, when you're all done with the decorating and spring cleaning, sit down with a nice, hot cup of tea or a drink and relax!
You might also like:
Have a Spectacular Day!
~Vanessa
Vanessa Hamlin is the owner and founder of Food Life Design and VLHamlinDesign. With her passion for frugal living and homesteading, Vanessa loves to write about easy recipes, making money, gardening, home remedies and everything else that a good life entails! When she's not writing for Food Life Design or creating products for VLHamlinDesign, you'll find Vanessa reading, drawing, gardening, cooking or spending time with her family.