This post may contain affiliate links. As an Amazon Associate I earn from qualifying purchases. Please see my policies to learn more.
Surprise all your food lovin' friends with homemade treats that you made yourself! These homemade gifts for foodies are sure to make any gourmet lover smile!
I am a foodie. And if you give me a food gift, I will love you forever. So, I thought it would be fun to create a little round-up for you of exciting homemade gifts for foodies.
Since the holidays are fast approaching, now is the time to start thinking about homemade gifts and honestly, I think people really enjoy gifts that they can eat! I know I do!
When I go on vacation or shopping at new place, I don't come home with your typical tourist-y items. I always buy food.
Fun food.
Like gourmet sauces and handmade cheeses or specialty pickles. I'm obsessed with gourmet canned foods!
And I know that there are others out there like me that love to receive fancy food gifts!
So, if you have a food lover on your Christmas shopping list and you're looking for homemade gifts for foodies, then you're going to love this list!
Homemade Gifts for Foodies That You Haven't Made Before!
4-Ingredient BBQ Sauce
Homemade BBQ sauce is perfect for the foodie that loves to spend time at the grill! Pair it with a nice set of basting brushes and you're good to go!
Brownie Mix
Chocolate lover on your list? Make a batch of this delicious Homemade Brownie Mix and wrap it up with a mug featuring instructions on how to make a brownie in a mug!
Caramel Sauce
The perfect ice cream topping for a Caramel lover! Just make a batch of this caramel sauce from King Arthur Flour and pair it with a personalized ice cream bowl and some fancy sea salt! If possible, include a gift certificate to her favorite ice cream shop!
Chocolate Peanut Butter Fudge Sauce
Another perfect topping for the ice cream lover, except this time, add some Reese's peanut butter cups to the personalized ice cream bowl when you package up the gift!
Cookies
Everyone loves Christmas Cookies! So, whip up a few batches of your favorite kinds and then package them in pretty gift tins to give out to family and friends!
Cranberry Sauce
I don't know about at your house, but at ours, Christmas and Thanksgiving wouldn't be the same without cranberry sauce! So, instead of letting your foodie friends suffer through eating the canned variety, whip up a few batches of this delicious 3-Ingredient Cranberry Sauce instead! Put a pretty red bow on the lids and add labels for the perfect gifts for foodies that love gourmet sauces.
Homemade Ro-Tel
Got a friend that always makes the Famous Ro-Tel Queso Dip for every get together? Make her a batch of this Copycat Ro-Tel so she can use it for parties throughout the year! Pair it with a box of Velveeta and a decorative serving bowl for the perfect gift!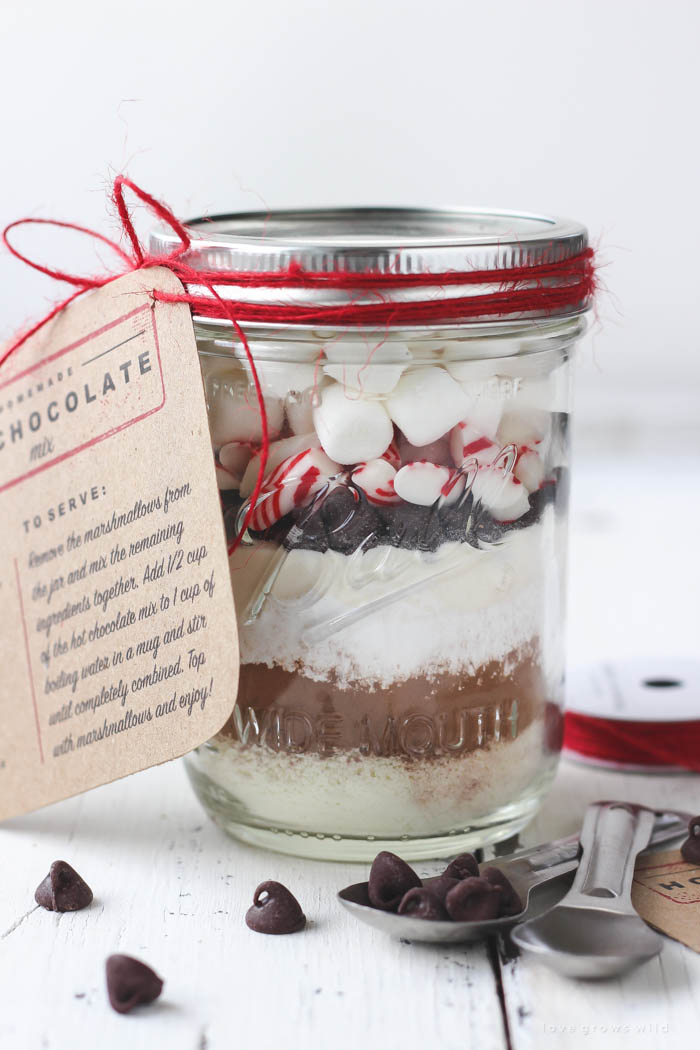 Hot Chocolate Mix
Who doesn't love a nice cup of hot chocolate on a cold winter night?! This is a great gift for a foodie kid! Layer up a batch of this gorgeous Hot Chocolate Mix from Love Grows Wild, pair it with a festive holiday mug and then, even when the hot chocolate is gone, they can use it year after year!
Infused Vinegar
Do you have someone on your list that loves the extra fancy stuff? Make her a batch of infused vinegar using the recipes from Preparedness Mama! Once it's had time to sit, as recommended, pour it into fancy bottles and label. Wallah! Perfect fancy gift! Infused vinegar is great for making salad dressings and marinades, plus it makes the best homemade all purpose cleaner, too!
Pickles
Come on, you didn't really think I'd get through this list without adding pickles, did you? You know I love them! But, seriously – other people do, too! Especially fancy ones, like my zucchini pickles or this vegetable mix from Genius Kitchen. Instead of using regular mason jars, can them in fancy jars to add a more gourmet touch.
Popcorn
Popcorn, the fancier the better! It's another one of those gourmet foods that you just don't regularly have at home. Kettle Corn, Caramel Corn….you know what I mean. So, now that you've found these 30 gourmet popcorn recipes from DIY n Crafts…which one are you going to make? Once you've chosen and made the gourmet popcorn that you think your friends will love most, wrap up a bunch in a zipper bag, then package it inside fancy cookie tins to give away.
Pancake Mix
Breakfast, please! Who wouldn't love to receive a gift basket full of homemade pancake mix? Whip up a batch or two, print out the free label and put it in a basket. Throw in some real Vermont Maple Syrup and Smoked Bacon for a full breakfast!
---
That's it! We've made it to the end of my favorite Homemade Gifts for Foodies. I hope you've found the perfect gift for your favorite gourmet lover!
See more gift guides here!
---
Be sure to signup for my daily newsletter to receive free printables, easy dinner ideas, recipes, home business tips and so much more right in your inbox!
Have a Spectacular Day!