How often do you walk into the grocery store and feel like a hunter in the woods?
You stand in each aisle, waiting desperately for something to catch your eye. Anything that looks good, really…and easy, of course.
You're busy after all and you don't have time to waste cooking a huge meal night after night.
Sound about right?
I've been there!
When I first got married, I didn't even think about keeping a grocery list. And I know I wasn't alone, a lot of people don't keep track of the groceries they need.
You run out of food…you go to the grocery store and buy more. It's that simple…right?
Not really.
I mean, it can be. If you want to spend half your paycheck at the grocery store only to come home and realize that the only things in your grocery bags are condiments and paper products.
That works…
If you like your peanut butter sandwich spread on paper plates instead of bread.
If you prefer your sandwich on bread, like most of us…you'll be much better off, if you keep a running grocery list.
3 Reasons You Should Keep a Running Grocery List
1. Save Money & Time
Planning ahead for the grocery items you need will save you a ton of money!
Instead of wasting your hard earned money on a bunch of random condiments and paper products, you'll actually be purchasing things you need. And when you have a grocery list prepared, you can head into the store and zip right through the aisles to get what you need.
No time wasted "hunting" for the right piece of meat for Sunday dinner.
2. Buy What You Like
When you create a grocery list ahead of time, don't forget to add foods that you like.
You can even splurge a little bit and pick up the ingredients to make some peanut butter buckeye cookies for your husband or even chicken and vegetable lasagna for dinner on Sunday.
No more peanut butter and paper plate sandwiches!
3. Never Run Out Again
Using a grocery list in combination with menu planning is the perfect way to ensure you never run out of the food you like to eat. And you won't find out you don't have any bread, after you've already prepared your french toast mixture.
Keep a dry-erase grocery list posted on the refrigerator. As you run out of each food item in your house, just jot it down on the list.
When it's time to go grocery shopping, transfer the list to a sheet of paper and head out to the store.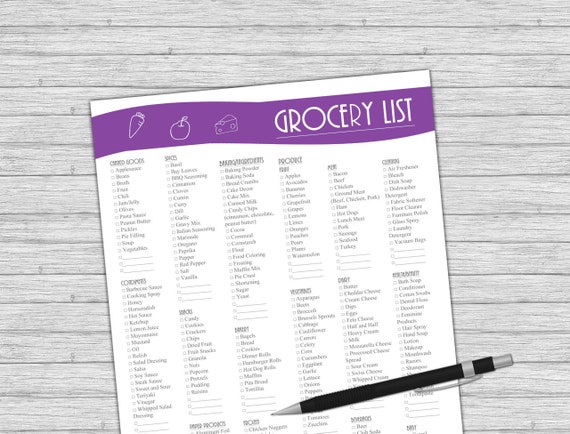 BONUS:
Keeping a grocery list will help keep you healthy!
Why?
Because you won't be eating peanut butter and paper plate sandwiches, of course!
On a more serious note, keeping track of what you buy at the grocery store really can help you stay healthy.
Planning ahead allows you to prepare meals that are made with more fresh ingredients and less processed items. Plus, you aren't likely to buy as many prepared meals or pick up as much junk food.
---
I hope you've enjoyed reading 3 Reasons You Should Keep A Running Grocery List!
---
Be sure to signup for my daily newsletter to receive free printables, easy dinner ideas, recipes, home business tips and so much more right in your inbox!
---
Like this post? Don't forget to PIN IT to share with your friends:
Have a Spectacular Day!
Vanessa Hamlin is the owner and founder of Food Life Design and VLHamlinDesign. With her passion for frugal living and homesteading, Vanessa loves to write about easy recipes, making money, gardening, home remedies and everything else that a good life entails! When she's not writing for Food Life Design or creating products for VLHamlinDesign, you'll find Vanessa reading, drawing, gardening, cooking or spending time with her family.