Want to decorate for the holidays without spending a ton of money? Check out our new Christmas Wall Decor! You'll adore the cute hand-painted designs and you'll save a ton of cash on decorations.
It's almost that time you guys! Fall flew right on by and we're staring at below 40 degree temperatures here in Vermont this morning. But, you know what that means? It's time to start preparing for the holidays!
Time to start thinking about dinner menus, decadent desserts and decorating!
And you know I love decorating for the holidays! One of my favorite ways to decorate is by using cute Christmas Wall Decor. It's a cheap and easy way to decorate without spending a bunch of money. All you need is a wall art print and a frame! It really doesn't get any easier!
I'm happy to announce that this year I'm offering my entire Christmas collection as wall art prints, so you can have them too! We can be like twins with our Christmas decorations!
So, without further blabber, let's have a look at this new Christmas Wall Decor, shall we?
---
Each wall art print is available in the following options:
Printable (you print at home): $5.00
5″ x 7″ Print & Ship : $15.00
8″ x 10″ Print & Ship : $20.00
8.5″ x 11″ Print & Ship : $20.00
Just go ahead and click the images below to learn more about each design.
---
Mr. Elfy-Elf – Watercolor Elf Decorations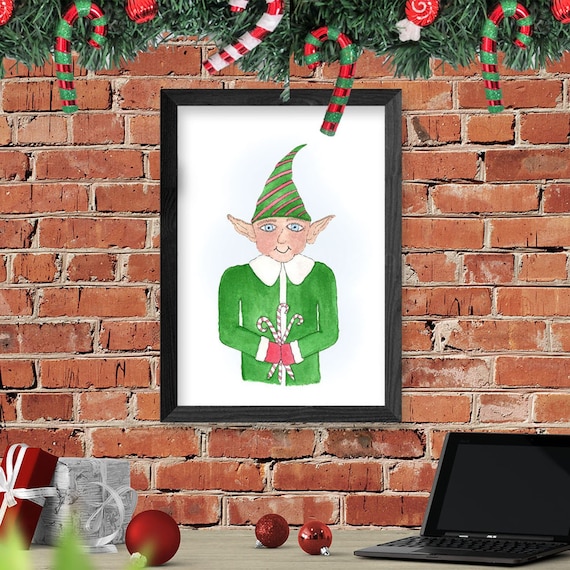 How cute is Mr. Elfy-Elf?! I just love this guy! He's perfect for hanging in your entryway, living room or even in a kids bedroom!
---
Happy Snowman Wall Art Print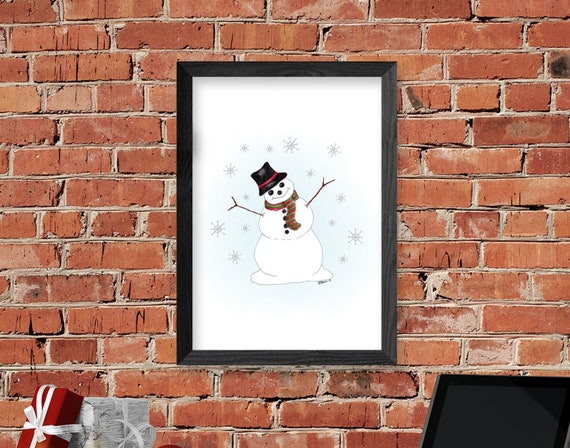 Oh my Snowman! Of all this year's Christmas collection, this adorable Happy Snowman is my favorite. He's ready to hang out in your foyer or kitchen for the entire winter season!
---
Santa Claus Wall Decorations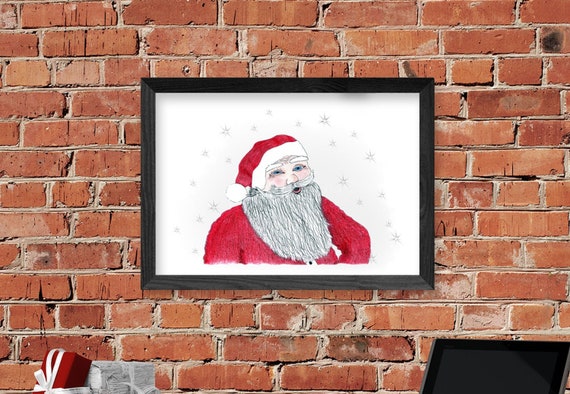 Ho Ho Ho! Santa's always watching! Make sure to hang this one in the kids playroom, bedroom or the family room so they know he's always paying attention to see who's naughty or nice.
---
Watercolor Ornaments Wall Art Decor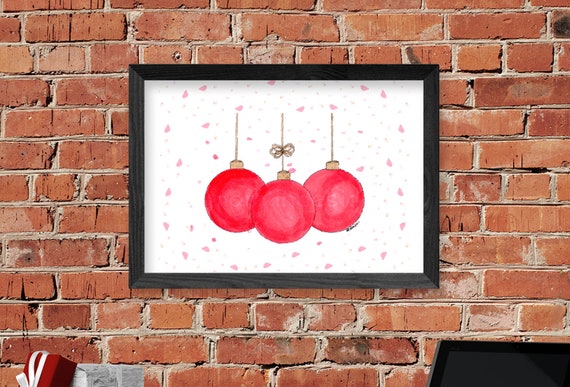 Simple, elegant, beautiful. I love how this Watercolor Ornaments piece came out. It's the perfect way to decorate any minimalist space without cluttering up the walls with caricatures and cartoon-ish decor for Christmas.
---
Puppy Love Christmas Wall Decor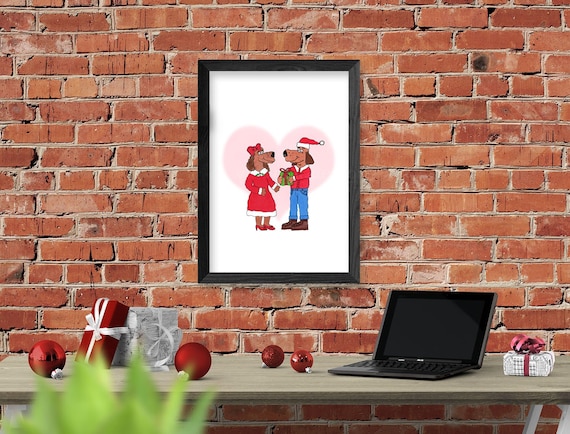 Ahhh….puppy love. This adorable Christmas Wall Decor is definitely not for the minimalist at heart…it has goofy written all over it! But, it's perfect for decorating a new home as a couple and it makes it great wedding gift for the Christmas newlyweds!
Well, that's it, my friends! We've come to the end of the New Christmas Wall Decor (so far…) and I hope you've enjoyed checking out these gorgeous new designs.
I'm super proud of them this year and I can't wait for you to smile when you decorate your walls with them!
So, to make that smile even bigger…here's a coupon for 25% OFF any of this new Christmas Wall Decor! Woohoo!

This coupon is valid through October 31, 2018 at 11:59 pm ET.
---
Be sure to signup for my daily newsletter to receive free printables, easy dinner ideas, recipes, home business tips and so much more right in your inbox!
---
Like this post? Don't forget to PIN IT to share with your friends:
Have a Spectacular Day!
Vanessa Hamlin is the owner and founder of Food Life Design and VLHamlinDesign. With her passion for frugal living and homesteading, Vanessa loves to write about easy recipes, making money, gardening, home remedies and everything else that a good life entails! When she's not writing for Food Life Design or creating products for VLHamlinDesign, you'll find Vanessa reading, drawing, gardening, cooking or spending time with her family.