This post may contain affiliate links. As an Amazon Associate I earn from qualifying purchases. Please see my policies to learn more.
Hello! I hope you've had an awesome week. Today, I'm sharing some DIY Greenhouse Ideas that I hope will get you thinking about your summer garden!
After moving to Vermont and starting my gardening addiction, I realized that if I really want to grow anything here, I need a greenhouse.
We live in gardening zone 4b, which gives us roughly 90 days of growing.
And that is not nearly enough!
So, in 2019 we built a DIY Greenhouse using some scrap wood and a couple of old, garage doors a friend gave us.
It's 8′ x 8′ and well…not beautiful. But, it was a helpful place to start our plants last year and will become the perfect, little potting shed.
However, this year, I really wanted to up my production and so, I splurged and bought a cheap hoop house.
It measures 10′ x 20′, which is more than double the space of our DIY greenhouse, so I'm super excited about that!
Unfortunately, we weren't able to get it put up until last weekend and it's rained every day since, so I haven't been able to get started.
Fingers crossed that it warms up and stops raining for Mother's Day so I can get out there and get planting!
In the meantime, I thought maybe you'd be interested in building your own DIY Greenhouse?
I thought you might!
Below, I've compiled a list of DIY Greenhouse Ideas that you can build in your backyard just as soon as you gather the materials…
DIY Greenhouse Ideas for Your Backyard
DIY PVC Greenhouse
If you're looking to build a greenhouse large enough to produce a lot of food, be sure to check out this DIY PVC Greenhouse from Lady Lee's Home. With a whopping 12′ x 30′ space, you're sure to have enough room for everything you want to grow.
How to Make Your Own Polytunnel
This adorable little polytunnel from Patrick Hunt is built in a similar way to the PVC Greenhouse above, but on a smaller scale. It's perfect if you don't have a large backyard, but still want to do some gardening.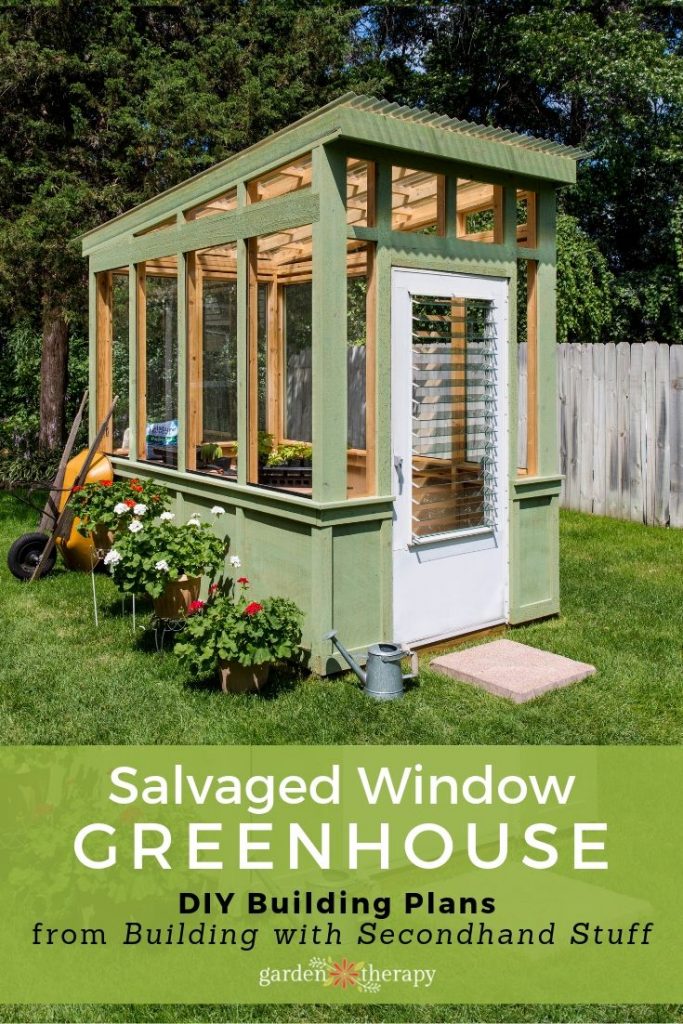 Salvaged Window Greenhouse
How cute is this salvaged window greenhouse from Garden Therapy?! It's the perfect use of your old windows and scrap wood.
How to Build a Greenhouse for Under $200
If you've got a strict budget for your DIY Greenhouse, be sure to check out this tutorial on How to Build a Greenhouse for Under $200 from Country Living in a Cariboo Valley!
Cattle Panel Pallet Greenhouse
If you have a slightly larger budget, this super sturdy Cattle Panel Pallet Greenhouse from Peak Prosperity can be built for $300! And if you get a little creative with the plans, you could easily double or triple the size depending on your needs.
DIY Lean-to Greenhouse
If you don't have a huge yard space, but do have a flat space on your home, garage or garden shed, then this DIY Lean-to Greenhouse from Empress of Dirt might just be the thing for you! She built hers at 3'x 12′, but, you could easily shrink or extend the width and length of this to make it fit your space.
How to Build a Greenhouse
If you want to go all in and really build a food producing greenhouse, check out this tutorial on How to Build a Greenhouse from Instructables. This massive building measures in at 15′ x 25′! Plus, it includes shelves, raised beds and a potting table with a sink!
You might also like these garden posts:
---
I hope you love checking out these DIY Greenhouse Ideas! Be sure to signup for my newsletter to receive free printables, recipes, and so much more right in your inbox!
Have a Spectacular Day!