If you're running a handmade business than you need to learn about Etsy SEO. Read this post to get the answers to questions like "What the Heck Is It?" and "Why Does it Matter to You?" and "How Can It Boost My Etsy Sales?".
Etsy SEO: What the Heck is it and Why Does it Matter to You?
Etsy SEO is about to become your best friend and your worst nemesis.
So, what the heck is it?
Well, it's a complicated bunch of things, really. But, in short, SEO is Search Engine Optimization, which basically means how the search engine shares your listings or information using the information you provide.
Why does it matter to you?
Because, my friend, it is the secret train ride into the world of Etsy success. Without proper SEO, your listings will fall to the 250th page, never to be seen again. You really don't want that to happen, do you? No? Good, then read on…
Who Uses SEO?
Everyone who has ever been on Etsy (or used a search engine, for that matter). But, seriously, everyone uses SEO and most people don't even know it. Every time you type a string of words into the Etsy search box, you're using SEO. As a searcher, you're looking for a particular product, but without realizing it, you're creating keywords that matter a great deal to business owners.
We're going to use this cute little Giraffe Notepad as an example throughout this post…just thought I'd share a peek at him.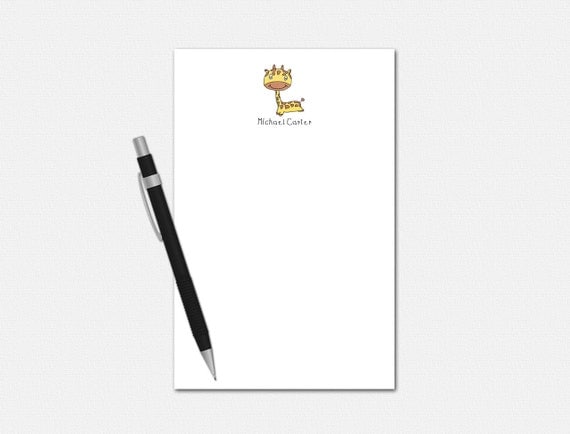 How to Build a Keyword Library for Your Business
Before you start listing your new products on Etsy, get out a new notebook and a pen. Write down all the keywords that you think customers would use to find your item(s).
For example: If you sell personalized stationery and you've just created a new notepad featuring a giraffe for little boys, you might use keywords like –
Personalized Notepad
Personalized Notepad for Boys
Personalized Giraffe Notepad
Giraffe Notepad
Etsy allows the use of 13 keywords (or tags, as they call them). Use them all, every single time you list an item.
Where to Find More Keywords to Boost Etsy SEO
Awesome keywords are everywhere you look…you just need to know where to find them.
Let's start with Etsy…
Open the Etsy home page and type "Personalized Notepad" into the search box. Now, scroll all the way to the bottom of the page. Below the listings, you'll see a section called "Related to (YOUR KEYWORDS)" and a whole bunch of keywords.
The results:
Related to personalized notepad

personalized stationery
personalized notebook
personalized stationary
custom notepad
personalized teacher notepad
personalized notepad set
teacher notepad
notebook
stationary
personalized stationery set
These are the related items that people are actually searching for on Etsy. Use these keywords when building your keyword library. They will serve you well!
Head over to Google and repeat the process…
The results:
Searches related to personalized notepad

cheap personalized notepads

personalized notepads for business

personalized notepad sets

personalized teacher notepads

personalized lined notepads

personalized notepads bulk

personalized notepads philippines

custom notepads with logo
Now, go to Yahoo and do it again…
The results:
Also Try

Personalized Notepad Sets

Personalized Notepad Favors

Personalized Notepad Holder

Personalized Notepad and Pen Set

Personalized Notepad Philippines

Cheap Personalized Notepad

Personalized Memo Pad

Personalized Notebook
As you can see, each search is different and they are ever changing. Feel free to use any search engine you like to find keywords.
What Makes a Good Keyword?
A good keyword is a string of words that exactly matches your product.
The best keyword for my giraffe notepad example above would be –
Personalized Giraffe Notepad
Why? Because when someone is looking to buy a personalized giraffe notepad, those are the exact words they are going to type into the search box.
The next best keyword would be –
Giraffe Notepad
Why? Because if someone is searching for a giraffe notepad, they might decide they like a personalized giraffe notepad better. Get it?
How to Use Etsy SEO to Skyrocket your Listings to the Front Page
Now that you've built your keyword library, it's time to figure out how to use these keywords to boost your Etsy SEO. It's a lot easier than you think!
Step One:
Choose a product to list for sale and get out your keyword library for this type of product.
Open a new listing page –
Use your best keyword at the beginning of your title and then add additional keywords, as desired, using dashes in between each keyword. Try to keep the title between 4 and 6 keywords.
For example (the title for my Giraffe Notepad) –
Personalized Giraffe Notepad – Giraffe Notepad – Personalized Notepad for Kids – Personalized Stationery for Kids – Giraffe Stationery
Step Two:
Use your best keyword at the beginning of your listing description.
For example –
This adorable Personalized Giraffe Notepad is the perfect gift for your animal loving little boy!
Step Three:
Fill all 13 "Tag" spaces using your best keywords. Unfortunately, Etsy's tagging system only allows keywords up to 20 characters and sometimes you'll have to use shorter keywords.
For example –
My title uses the following keywords –
Personalized Giraffe Notepad
Giraffe Notepad
Personalized Notepad for Kids
Personalized Stationery for Kids
Giraffe Stationery
Due to the character limit, I am only able to use Giraffe Notepad and Giraffe Stationery as tags for this listing. Therefore, I've had to break down the other words to fit the system. When this happens, try to use keywords that people would use to find your "type" of product.
For example –
Since I had to break down the keywords above, I chose to use the following, shorter, keywords –
Notepads
Stationary
Stationery
gifts for her
vlhamlindesign
custom notepad
Personalized Notepad
stationery for kids
giraffe
gifts for boys
gifts for girls
giraffe gifts
While these are not necessarily the "Best" keywords, they are still relevant to my product and people searching for these things will still be interested when they find my giraffe notepad.
That's all there is to it!
These are the exact steps that I use to get my products to the front page of the "right search" on Etsy…every single time!
Here's a look at the first page of the Etsy search for "Personalized Giraffe Notepad" (Feel free to click the image to check it out for yourself) –
As you can see, the first line of images are Ads and yes, my Giraffe Stationery Set is shown there. However, directly below, on the first line of relevant listings, is my giraffe notepad. This listing is here because of the steps I've outlined above (and below!). Try it out for yourself!
Here's a quick recap of these simple steps to Etsy SEO success –
Build a Keyword Library filled with good (relevant!) keywords.
Showcase your best keywords in the title of each listing. Keep titles short (4 to 6 words).
Use the best keyword at the beginning of your listing description.
Fill your tags with relevant keywords.
Now that you've spent some time learning about Etsy SEO (and you've put all your keywords in the right place), you're sure to see an increase in traffic and hopefully, sales! I hope I've done a good job of explaining what SEO means and how to utilize it for your Etsy business. It's an important part of the job, but once you've done the work, you'll be able to reap the benefits for years to come!
Have a Spectacular Day!
Please Note: This post may contain affiliate links or links to my shop. Please read my policies page to learn more about how this works.
Save
Save
Save
Save
Vanessa Hamlin is the owner and founder of Food Life Design and VLHamlinDesign. With her passion for frugal living and homesteading, Vanessa loves to write about easy recipes, making money, gardening, home remedies and everything else that a good life entails! When she's not writing for Food Life Design or creating products for VLHamlinDesign, you'll find Vanessa reading, drawing, gardening, cooking or spending time with her family.