It's time for fall and everything spooky, so today I thought I'd share another free printable stationery sheet with you!
This adorable stationery printable features my watercolor candy corn, which is a new design for this year. I have a few other plans for this little doodle, too!
But, for now…
The candy corn stationery measures 5.5 inches x 8.5 inches or "half-letter"…meaning you can fit 2 sheets on just 1 regular piece of printer paper!
I recommend printing your stationery on 24 lb. paper. It's thicker and it allows you to use a variety of pens or fun markers without them leaking through.
So, you can make your letters pretty!
Since I started designing these new stationery sheets, I've kept a stack of them on my desk. I've been using them to jot down notes, to-do lists, grocery lists, random thoughts…and well, anything else I need to write down.
And I'm loving having them so handy!
So, if you're anything like me…as in…you jot down 10,000,000 random things in a day…then, you NEED to print some of this Halloween stationery and put a stack of it on your desk to use throughout the season.
I promise…you will use it!
Just click the image below to download a copy right now!
©VLHamlin
Please note: This free printable Halloween stationery paper is a gift from me to you and cannot be sold, transferred or altered, in any way, without my written consent. Feel Free to share the link with family and friends so they can download their own copy.
---
You might also like:
Free Printable Fall Stationery
---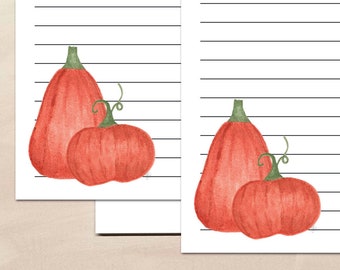 Head over to the shop to see more fall and Halloween stationery sheets!
---
Be sure to signup for my daily newsletter to receive free printables, easy dinner ideas, recipes, home business tips and so much more right in your inbox!
Have a Spectacular Day!
Vanessa Hamlin is the owner and founder of Food Life Design and VLHamlinDesign. With her passion for frugal living and homesteading, Vanessa loves to write about easy recipes, making money, gardening, home remedies and everything else that a good life entails! When she's not writing for Food Life Design or creating products for VLHamlinDesign, you'll find Vanessa reading, drawing, gardening, cooking or spending time with her family.