Need some dinner ideas for the week? I've got you covered! Here's 7 dinner ideas plus a free printable meal plan to stick on your fridge!
Happy Monday! I hope you enjoyed last week's dinner ideas and free printable menu plan because I'm back again today with another free printable meal plan for you!
Also, the new weekly meal plan page is up and running! I've listed all of the weekly menus, plus there are links to holiday menus, monthly menus, free printable meal planners and articles to help you on your meal planning journey.
Check it out here -> Weekly Meal Plans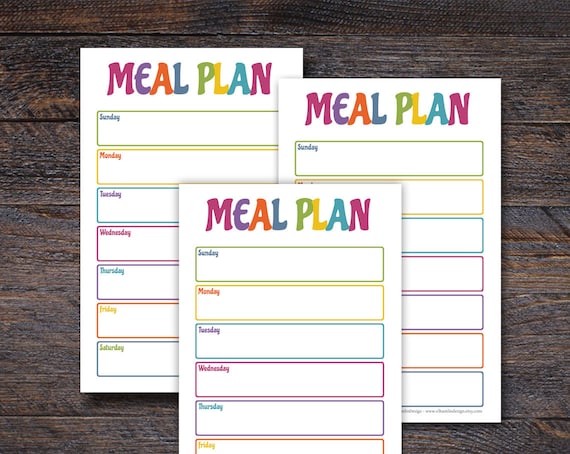 I've also listed this adorable Meal Plan Notepad in the shop, in case you're interested in having one made rather than printing your own! It comes with 50 bound pages of blank meal plans, ready for you to jot down your meal ideas!
Okay, so let's get onto the dinner ideas for this week! Once again, you'll find the list of dinner meals first, then the free printable meal plans.
Dinner Ideas for the Week of 10-22-18
Monday – Loaded Baked Potato Soup
Tuesday – Chicken Taco Salad from The Weary Chef
Wednesday – Pumpkin French Toast with Whipped Pumpkin Butter from Life Made Simple
Thursday – Slow Cooker Pepper Steak Sandwiches and French Fries
Friday – Pizza Burger Puffs
Saturday – Chicken and Broccoli Stir Fry from Dinner at the Zoo
Sunday – Chicken and Southern Dumplings
---
Free Printable Meal Plan – With Ideas
Free Printable Meal – Blank
---
Be sure to signup for my daily newsletter to receive free printables, easy dinner ideas, recipes, home business tips and so much more right in your inbox!
---
Like this post? Don't forget to PIN IT to share with your friends:
Enjoy!
Have a Spectacular Day!
Vanessa Hamlin is the owner and founder of Food Life Design and VLHamlinDesign. With her passion for frugal living and homesteading, Vanessa loves to write about easy recipes, making money, gardening, home remedies and everything else that a good life entails! When she's not writing for Food Life Design or creating products for VLHamlinDesign, you'll find Vanessa reading, drawing, gardening, cooking or spending time with her family.