Why waste a bunch of money on Thanksgiving decorations when you can find so many online for free? It doesn't make sense to me!
Between the appetizers, the turkey, the mashed potatoes, the cranberry sauce, 150 different side dishes and 470 desserts, we spend SO.MUCH. money on Thanksgiving food. So, why should we spend so much money on Thanksgiving decorations?
It's totally unnecessary!
*UPDATED POST
Thanksgiving is a day to spend time with your family and friends. It is a time to be thankful for all the wonderful things you have in your life…
It's not time to spend a whole buncha money on silliness like decorating! Especially when you can make your own Thanksgiving decorations so easily.
So, today I'm sharing 7 gorgeous Thanksgiving decorations that you can print and use right away!
From printable wall art to banners and even place cards, here's everything you need to decorate for Thanksgiving!
Free Printable Thanksgiving Decorations
Give Thanks – Free Thanksgiving Wall Decor Printable
Thankful Banner Printable from Honey & Lime
Let the Stuffing Begin Printable from Nest of Posies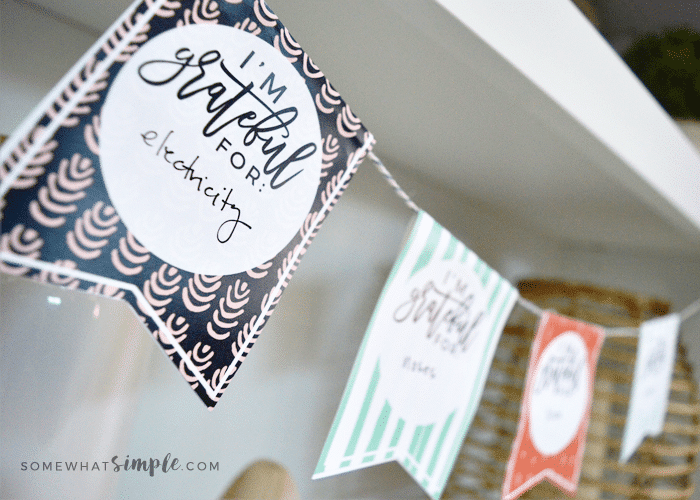 Gratitude Garland Printable from Somewhat Simple
Always Something To Be Thankful For Print from The Farm Girl Gabs
Pour Some Gravy on Me Printable from Eighteen25
Free Printable Thanksgiving Place Cards
I hope you've enjoyed checking out these adorable decorations! They're sure to make your home perfectly festive for the holiday!
You might also like:
Fall Stationery – Free Printable
Have a Spectacular Day!
~Vanessa
Vanessa Hamlin is the owner and founder of Food Life Design and VLHamlinDesign. With her passion for frugal living and homesteading, Vanessa loves to write about easy recipes, making money, gardening, home remedies and everything else that a good life entails! When she's not writing for Food Life Design or creating products for VLHamlinDesign, you'll find Vanessa reading, drawing, gardening, cooking or spending time with her family.