Happy Mother's Day!
(late, of course) But, I hope you had a great Mother's Day and got to spend some time with your favorite people. It's been another long week here. Why is it that everything seems to happen all at the same time? There are months and months of calm, then boom…the whole world happens at the same time…
Prom…
Both my girls went to prom this year. How is that possible? They were babies dancing in my kitchen just a few minutes ago!
It was the first formal dance for my youngest daughter and the last for my oldest daughter. Yes, the last for my oldest. Tears!
While she's only 16, she'll be heading off to early college in the fall and won't be completing a formal senior year of high school. It's sad that she won't have those final moments in school, but we're so proud of her for being accepted into early college. She's worked so hard to get here and she deserves it.
Here's a peek at before prom pictures. They both looked spectacular and they had so much fun.
Aren't they gorgeous?! I'm a lucky Mama!
Prayers, please…
Unfortunately, prom coincided with sadness.
My Gram, the girls great-grandmother and the special woman who taught me everything I know, was diagnosed with cancer last week. I'm brokenhearted and so worried for her.
About 10 years ago, she was diagnosed with Alzheimer's disease which makes it very difficult to treat her cancer and the treatment options are limited. So, if you could…please send up a prayer or two…or a million. We could use as much help from up above as He can offer and we'd be so grateful. She is the center of our little universe and I don't know what any of us are going to do without her.
Her birthday was last Monday and we managed a quick trip down home to spend the day with her and have a little celebration. Sadly, Gram had to enter the hospital on Monday, her birthday, in order to begin the treatment process.
I'm so glad we got to make the trip down to see her. We had a nice lunch of her favorite "Dallas Texas Hot Wieners" and summer salads. Oh and of course, cake! Gotta have cake!
Because her birthday coincides with Mother's Day, we always celebrate both at the same time. So, I gave her a framed drawing of her house this year, which she loved.
She and my grandfather built their house with their own two hands, back in 1954 and it has been their home, our home, for the last 64 years. It's so special to all of us.
I only hope the drawing becomes a family heirloom that is passed down for generations, so we always know where we came from.
Mother's Day…
We spent our actual Mother's Day at home, doing some gardening and yard work.
It was also my husband's 40th birthday and so, the girls and I made sure to spoil him a little bit, with homemade coffee cake for breakfast, his favorite grilled dinner and a homemade chocolate cream pie for dessert. We also had a fire in our backyard pit and we might of roasted some s'mores, too.
In other news…
It's gardening season! And you all know how much I love to work in my garden…and kill my plants.
As always, I have a ton of grand plans for the garden. But, this year, I'm determined to keep my garden alive. I'm not sure if it's because I'm getting older or if it's this whole thing with my Gram, but I am insistent that it all live and prosper.
Lucky for me, the women who've owned our home in the past, had beautiful (perennial) flower gardens and they're all blooming. Which is awesome, because it saves me a ton of money!
I didn't do much with them last year, because I wanted to see where everything bloomed. But, the game is on now!
After taking the last year to get to know where everything is, I started this past weekend with cleaning up some flower beds and adding some definition to those that I want to leave where they are.
We, also, have a giant flower bed on the side of the house that was built with stone. While it's a gorgeous bed of flowers, it wasn't installed correctly and it doesn't have drainage around it.
Unfortunately, this means the water seeps into our basement and so, the husband has to do some drain work in there. Which means…the flower bed has to be torn out.
But, that's okay! It gives me tons of stone to work with and a whole bunch of flowers to create new garden beds…for free! And you know, I love free!
So, I built a new bed for the rhubarb that was already here when we moved in. I transplanted the already blooming rhubarb and now, I've just gotta do a whole lotta praying to keep it alive.
And, I created a double tree ring around the gorgeous Red Maple in the back yard and created a spill off area on the back where the flowers will (hopefully!) look like they've spilled down the hill. I filled the inside of the rings with wildflower seeds…
Unfortunately, I didn't know that some of the seeds have to germinate for a whole stinking year and so, the front ring will be partially empty this summer. I guess I really need to read the directions on the seed packages, huh?
Work…
I've also been super busy in the shop with the end of the school year gifts for teachers. It's one of those times of the year that reminds me why I became a stationery designer in the first place.
I love the idea of gift giving that means something…and will also actually be used!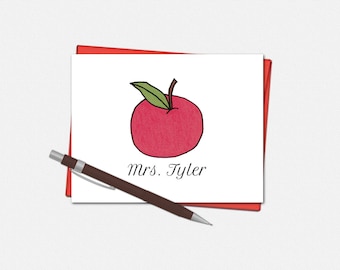 That's the great thing about giving your kids favorite teachers the gift of stationery. It's a useful item that they'll use everyday and every time they need to jot down a note, they'll be reminded of your child. Sweet, right?! Especially, if your kiddo needs an A!
Don't Forget! MAY SALE – 20% OFF All Stationery for Teachers! No coupon code necessary.
I've also been doing a whole lotta house drawing practicing. As I said above, I gave one to Gram for Mother's Day, but I also gave one to my step-mother and my mother-in-law. Plus, I've drawn a few other random homes and a couple of barns, too.
I'm almost feeling confident enough to offer them for sale. At the moment, the main thing holding me back is paper decisions…it always comes back to paper!
What kind of paper should I offer them on? Any ideas?
Have a Spectacular Day!
Vanessa Hamlin is the owner and founder of Food Life Design and VLHamlinDesign. With her passion for frugal living and homesteading, Vanessa loves to write about easy recipes, making money, gardening, home remedies and everything else that a good life entails! When she's not writing for Food Life Design or creating products for VLHamlinDesign, you'll find Vanessa reading, drawing, gardening, cooking or spending time with her family.