Thinking of what to give your kid's teachers for teacher appreciation week can be a doozy at best. What would they want? What do they need? Is getting them something custom too extra? Well…look no further! Here are the top five gifts for teacher appreciation week!
As a teacher for almost four years, teacher appreciation week is difficult. Although the sentiment is always there, I genuinely don't need another candle, bath salt, and – please for the love of all things holy – do not by your child's teacher a bottle of wine! Your child is not the "reason we drink" and perpetuating drinking culture in the workplace is not something teachers need. Not to mention, we could get into a lot of trouble for having it at school. Call me a goodie two shoes, but that's just not for me.
What you should be doing for your little's teacher is treating them with kindness and respect throughout the school year (and teaching your child those same values). But, if you do decide to get your child's teacher something special, I really do think these are the best teacher appreciation gifts. Many of them I have myself!
I love love love these stamps! Last year for teacher appreciation week, a family gifted me these and I use them every day. They couldn't be more useful and who doesn't love the bright colors! The best thing about these stamps is that they're self-inking. There's no need for hundreds of colorful ink pads that dry out overnight!

I've had my personalized library stamp for years. It's one of my couldn't-live-without classroom tools. Not only does it help determine school library books from my personally bought books, but the kiddos love identifying them too! It's a must have and a must give!
A few weeks ago, TSA snatched my favorite water bottle. To replace it, I got a 26oz Yeti Rambler water bottle and I couldn't be more impressed! I could write a whole article on how impressed I am. And, teachers need to stay hydrated, too!
There are not enough words in the English language for me to explain how OBSESSED I am with this bullet journal starter it for MochiThings! I came across it a while back and I'm purely in love. And, as a teacher, I know how teachers will think; this is the *perfect gift* for any teacher! I mean, look at all the storage!!
Personalized Pencils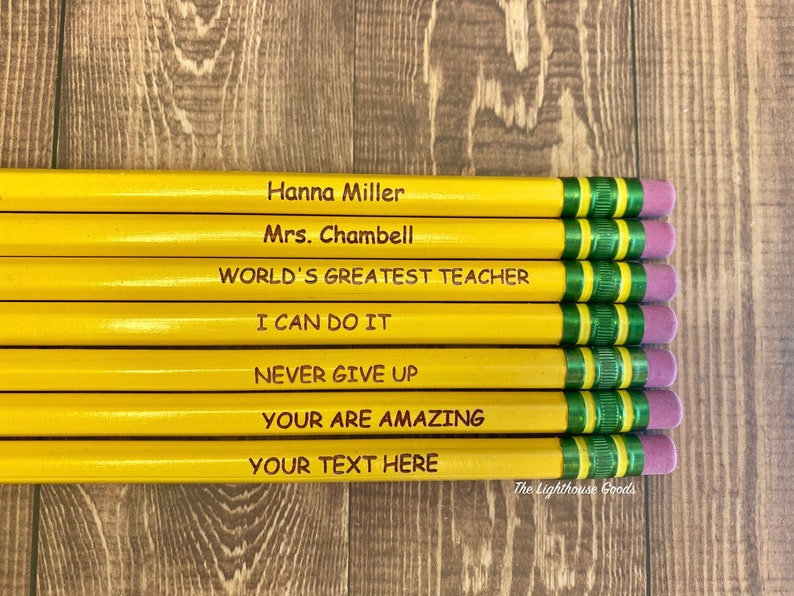 Every gift from students is always a favorite gift from students, but I particularly loved these custom pencils from The Lighthouse Goods last year! You can customize them with whatever phrase you'd like! Mine were customized with "Jungle Roomers" because of my classroom theme and our self proclaimed name. I'm sure you're kiddos teacher would love these!
Overall, teacher appreciation week is a great time to show your kiddo's teachers that you care. It doesn't have to be with a gift; even a short, sweet note would make their day! Good luck, and happy shopping!
You might also like:
<3 Kayden
Kayden Hamlin is a full-time preschool teacher and graduate student. She is passionate about saving money, self-care and mindfulness, and child development! When not in a classroom, you'd most likely find her reading with a cup of tea in hand or knitting projects for her family and friends.