How many of those plastic ice packs do you buy in a school year? Only to have them crack, break or just drip all over your kids lunch?
*UPDATED POST –
While my kiddos are fully grown and making their own lunches these days, I thought many of you might enjoy learning how to make homemade ice packs for lunch boxes. Not only does it save a ton of money throughout the year, but they're less toxic for your kiddos, too! Okay, back to the article…
Yuck!
Who wants a soggy lunch, right?!
I'm on a mission to DIY a lot of school items this year, so why not make homemade ice packs, too?
I found some really great ideas, so I thought I'd share them here with you.
Enjoy!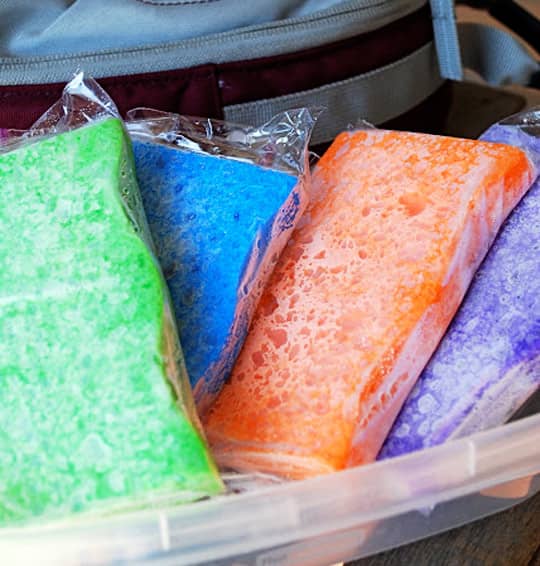 Ice Pack #1 – The Sponge
Place a wet sponge into a zipper bag, seal and freeze before use, as shown on kitchn.
Combine 1 cup dish soap and 1/4 cup rubbing alcohol in a seal-able bag. Freeze before use.
**Side Note: You can also make gel packs without using rubbing alcohol. Just use 1 part dish soap and 1 part water.
Combine 1 part rubbing alcohol and 3 parts water in a sealed bag. Freeze flat before use.
And if all else fails…
Fill your lunch box with frozen water balloons!
---
I think I'm going to try out ice pack #3. I have everything on hand and they seem simple. Although, I might use my food saver to seal the bags, rather than taking the chance with zipper bags.
Are you going to try making one of these homemade ice packs for your lunch boxes? If so, which one are you going make?
---
Be sure to signup for my
daily newsletter
to receive free printables, easy dinner ideas, recipes, home business tips and so much more right in your inbox!
---
Like this post? Don't forget to PIN IT to share with your friends:
Have a Spectacular Day!
Vanessa Hamlin is the owner and founder of Food Life Design and VLHamlinDesign. With her passion for frugal living and homesteading, Vanessa loves to write about easy recipes, making money, gardening, home remedies and everything else that a good life entails! When she's not writing for Food Life Design or creating products for VLHamlinDesign, you'll find Vanessa reading, drawing, gardening, cooking or spending time with her family.